Find Ladies Gym Near Me with Lady Trainer
Often ladies want to join a well-reputed gym near their locality in Lahore. Are you also searching for a ladies gym with female trainers in Lahore? This article will share valuable resources and a community club that offers ladies gym, equipped with state-of-the-art equipment and lady trainers to provide quality services.  
Four Steps 
Use Google Maps:

Open Google Maps on your device and search for "ladies' gym near me" or "women-only gym in Lahore." Google Maps will show you a list of gyms located near your current location. However, it is best to include your city and nearest location in the Google query form to get the best and most optimised results for yourself.

Search Online:

You can search for ladies' gyms in Lahore on search engines like Google or Bing. You will find a list of gyms along with their contact information and location. You can use any search engine to do searching. You can also search the yellow pages and get your best results.

Ask for Recommendations:

Ask your friends, family, or colleagues if they know any good ladies' gyms in Lahore. They may be able to suggest a gym based on their personal experience.

Check social media:

You can also check social media platforms like Facebook and Instagram to find ladies' gyms in Lahore. Many gyms have their own social media pages where they post updates about their services, facilities, and promotions. Remember to always check the reviews and ratings of the gym before joining to ensure that it meets your needs and expectations.
Benefits to finding Ladies Gym with Trainer
The benefits of attending a gym with female trainers will depend on your personal preferences and fitness goals. It's important to find a trainer who you feel comfortable with and who can provide you with the support and guidance you need to achieve your desired results. Some of the benefits are in place.  
Female trainers may better understand the unique challenges and goals women face when it comes to fitness. Therefore, finding  ladies' gym near you, with a female-trained and educated instructor, is always a great idea.

They can provide a different perspective on exercises and techniques that may be particularly effective for women. The structure of the body between males and females is different. For the same reason, females' weight problems often relate to psychological issues. If a female gym trainer is available with a knowledge of emotional intelligence, it will multiply the effectiveness.

Female trainers may be more attuned to

issues

such as postpartum recovery, menopause, and hormonal imbalances and can provide specialized guidance around these topics. This is essential to address the body and mind changes with the change in the phases of time. Females undergo different hormonal changes for many reasons, and attention is always essential.

Having a female trainer can provide a sense of comfort and safety for women who may feel intimidated or self-conscious in a gym environment. Hence, to maintain mental peace, it is essential to subscribe to a female gym trainer.

Furthermore, female trainers can serve as role models and inspirations for women who may be looking to achieve similar fitness goals.
Model Town Club (MTC)
However, we have a massive ladies' gym option in Lahore with trained and well-reputed fitness centres with reputed trainers. You are living in Lahore and looking for a ladies' gym to stay fit. Also, you need a ladies' trainer to get an accurate and productive exercise regime and help you achieve your goals.  
Enjoy Separate Ladies Gym
Model Town Club brings separate gyms with quality equipment and trained and well-reputed gym trainers for men and women. So, you can get the ladies' gym with lady trainers at the heart of Lahore. Model Town Club waits for you.  
Explore the latest Gymnasium in Lahore
Joining a fitness center is an excellent step for better and well-maintained health. Physical activities and exercise are the best ways to sweat. In today's era, where we all remain in search of ease and less physical efforts, these extra efforts are the sole source to balance the body's interiors and exteriors efficiently. Model Town Clun (MTC) offers the latest Gymnasium in Lahore. This article will throw light on the importance of physical activities and fitness centers.   
Benefits of Joining Gymnasium 
Joining a gym or exercising at a fitness center can have multiple benefits for human life. In the following, you can keep an eye on the possible advantages.   
The Latest Gym in Lahore can Improve Health  
Our body is a machine. It requires regular fuel, activity, and a healthy atmosphere to stay optimized and fully functional. In this regard, exercise and physical activities are essential. These activities must be done separately from routine activities of home and office life chores.   
Maintaining peace of mind while doing proper exercise is crucial to have reflections and positive impacts on both body and soul. Physical activities are beneficial to regulate the body's functions to get normalized insulin and cholesterol levels and strengthen the cardiovascular and muscular base.   
In addition, regular exercise results in regulated and optimal blood and oxygen circulation in the body. This releases happy chemicals from the brain. Therefore, negative emotions like hatred, depression, and hopelessness got out of sight.   
Fitness Routine is Helpful in Weight Management 
Weight is a complex subject. It does not mean that a skinny person is healthy or unhealthy; the chubby one is about to die. Weight management should be according to the body mass index (BMI). A healthy body must have nutritious values at an optimal level.   
The exercise routine at the gym helps in effective weight management. Professional trainers and personal guides are the best sources to idealize weight to feel good and look the best.   
Regular Exercise Enhances the Energy Levels 
With regular exercise, oxygen, and blood circulation gets optimized. Therefore, the energy levels are at their best. Regular exercise reduces the body's fatigue and enhances the burning of fats, resulting in well-maintained energy levels.   
Explore New Ways to Sweat  
The latest gymnasium also helps in discovering new and exciting ways of exercising. The equipment to perform regular exercises is the most crucial element to ensure regular exercises.   
Detox Self-Insides at the Latest Gym 
The human body is comprised of body and soul. Therefore, being healthy is incomplete without a healthy mind and soul. Doing regular gymnasium unburdens the soul. The feelings of low self-esteem, low confidence, and self-doubt are majorly sprouted out of the unhealthy and tired body.   
You can get a healthy and optimal body in good shape through exercise. It also increases the happy chemicals in the brain, which ultimately helps to think positively and to find solutions to problems that are hard to handle.   
Fitness Centre at MTC  
The Model Town Club (MTC) is situated in the most incredible area of Lahore. Yes, you guessed it right-The Model Town. The Model Town Club (MTC) awaits you with its extravagant luxury lifestyle in the center of the Model Town.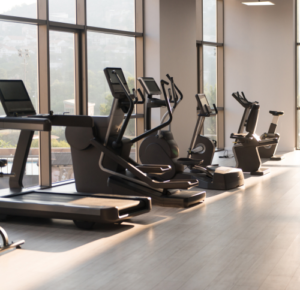 State-of-the-Art Design 
The gyms at Model Town Club have state-of-the-art designs and the latest equipment. The people interested in getting the best of their health will enjoy and achieve their fitness goals.   
WorldClass Equipment 
The Model Town Club's fitness center has gym equipment from top Italian and American manufacturers. You can enjoy the latest equipment to get back in shape wisely.   
Separate Gyms  
In Pakistan, women are more productive and relaxed with women counter players. Therefore, the Model Town Club (MTC) offers separate gyms for male and female clients. In this way, you can enjoy the journey towards a healthy mind and body in the company of your family or friends with complete privacy and peace of mind.   
Renowned Trainers 
The gyms and fitness centers are complete with professional assistance. For the same reason, the Model Town Club (MTC) gym has renowned, well-trained, and reputed trainers at your service. The trainers are separate for male and female gyms for our clients. You can also get in touch with the trainers to set your custom fitness goal. We also offer yoga classes for our interested family.   
Other Amenities 
The Model Town Club (MTC) amenities include fitness centers with indoor swimming pools. The SPA, Yoga Points, Coffee Shop, Juice Bars, and a tasteful Food court with outdoor barbeque.   
Conclusion 
Model Town Club (MTC) offers unique intellectual and physical activities. You can enjoy meetups and gatherings with recognized individuals in various fields. Not only this, but you can also enjoy the latest gymnasium in Lahore with the best guidance and a healthy environment.   
Health and Fitness Trends for 2023 
Health is wealth- is a common proverb. This wise saying was taken quite seriously in 2022. Likewise, there is a high possibility that the same will remain the point of concern for many fitness enthusiasts in 2023. Therefore, the Model Town Club brings top-of-the-chart trends for those willing to live a long, healthy, and active life.    
Focus on Mental and Physical Therapies   
Mind and Body therapy are at the top of our list of health and fitness trends for 2023. We are keeping it at the top because the sound mind remains in the sound body, and likewise, a body functions effectively through active mind presence.    
In 2023, there are well-executed therapy plans to carry on mental and physical wellness in routine. The new evidence has increased the credibility of such therapies as their impact is positive where they have been monitored.    
Strength Training is the New Normal   
A robust cardiovascular system with a strong mind is another focal point for the fitness enthusiast in 2023. Therefore, gyms and training are more compelled to provide strength-building activities. Muscular power and robustness are developed through proper training against external resistance in strength building. Consequently, it is also known as Resistance training.    
The strength training equipment is extensive, and quality is always a prerequisite to safety during sessions. Some strength training equipment consists of Resistance bands, Dumb Bands, Barbells, Kettlebells, Weight Machines, and Cable Resistance Machines.   
Prioritising Rest over Work   
After strength, rest is essential to make; the next popular trend of health and fitness in 2023 is emphasising proper resting of the human body to improve its functioning. Sleep is one of the most natural ways of rest. However, hot baths are another source of rest. It is not new, but adding soothing sounds per the human state of mind to the bathing scenario is. In addition, restorative yoga is another best move to prioritise over high-intensity interval training sessions.    
Evident of Fitness Apps   
Professional gym training is undoubtedly on the rise; on the other hand, however, at the same time, the emergence of apps and mobile apps have impacted every walk of life. The fitness and health line is not an exception. You can watch out for this trend by knowing that according to the records, in-app purchases (IAP) for health and fitness were projected to reach US$ 2.35 bn in 2022. In the same way, paid app revenues in health and fitness were projected to cross US$ 0.12 bn in 2022.     
Free Movements and Active Lifestyle   
In the presence of a lot of heavy gym training for maintaining a healthy lifestyle, another popular trend for 2023 is 'intuitive movement'. It is also known as the free movement. It focuses on keeping your body together and connected to enjoy your move.    
For years, exercise meant doing complex movements against will. Though it has its benefits, in 2023, society wants to move towards more natural, light, and possible to continue trends to keep physical and mental peace on top.    
Facial Yoga   
Last but not least, 'facial yoga' is another worth-mentioning health and fitness trend in 2023. As the name suggests, yoga relating to the face is facial yoga. But, in more professional and formal anticipation, it is a routine of regular messages with exercises to keep your face healthy and happy. The face has muscles and a lymphatic system, and skin all evolve; through this yoga, we can push away the ageing signs on our face.    
Anticipated Benefits of all these trends   
Now we come towards the calculated benefits of all these trendy health and fitness ways out for 2023. For instance, with mental and physical therapies, we can significantly reduce stress and tension on the level of the brain and body. This will enable us to overcome pain and depression.    
By doing strength training in 2023, we could enhance the body's power and immunity. That ultimately results in preventing injury, mobilising day-to-day activity, and strengthening the metabolism that balances body fat and weight. Not only this, but the entire body also moves equivalently as exercises include upper body push and pull, with lower body push and pull mechanism.    
Model Town Club for Health and Fitness   
We at the Model Town Club offer fitness centres for our members. You can train, follow trends, and get assistance from professional trainers to achieve your fitness goals. Are you interested in knowing more- Please visit us at Model Town Club.   
Conclusion   
Mental and Physical well-being is the most crucial element of human life. With a healthy mind and body, the functions could be performed to achieve social, financial, personal, or professional goals. Therefore, you should look at Model Town Club to ensure you get the best health and fitness experience in 2023.