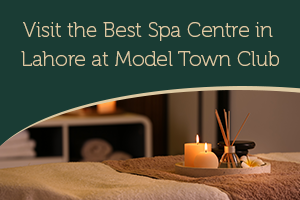 Visit the Best Spa Centre in Lahore at Model Town Club
Living your life in today's circumstances makes your body and mind tense. Therefore, you should look for an opportunity to relax your body and get better mental health. What is better than treating yourself in a great spa centre in Lahore at the Model Town Club (MTC)? Therefore, you should know what other benefits you can get if you become a member of our dynamic community. 
Why You Should Become a Member of Model Town Club (MTC)?
Get a quick fix of your mood and also make your body healthy through a wide variety of fun activities at the Model Town Club. The wide range of facilities available at MTC are as mentioned below: 
Squash Courts

 

Tennis Courts

 

Sports Grounds (for golf, football and cricket)

 

Male and Female Separate Gyms

 

Fully Equipped Fitness Centre 

Indoor Swimming Pools (for men, women and kids)

 

Sauna

 and Spa Centre in Lahore

 

Nails Bar

 

Hair Bar

 

Multiple 

Dining Options (cafe, live BBQ, and fine dining)

 
Moreover, if you are looking for a relaxing spa centre in Lahore, then you are on the right page as I have briefly mentioned the highlights of our spa and sauna facility in the content below. 
Aesthetic Spa Centre in Lahore
An aesthetic and stunning spa is described as the one focused on improving your skin health and yes, we do this professionally at the Model Town Club (MTC), Lahore. Our skilled workers will help you restore your skin health overall as well as reduce the signs of ageing. So, you can sit back and relax while benefiting from one of the many facilities of MTC Spa Centre in Lahore.  
MTC Spa and Sauna

You can enjoy saunas and revitalise your spirit and inner peace in the Model Town Club. Additionally, we offer a wide range of facilities at our spa centre in Lahore which are as mentioned below: 
Luxurious Spa Treatments

 

Manicures

 

Pedicures

 

Blow Dries

 

Wide Variety of Facials

 

Soft Tissue Massages

 
So, if you want to pamper yourself with some self-care, you should become a member and visit our club in Model Town Housing Society. 
Alluring Ambiance of MTC Spa Centre in Lahore
If you think about a spa centre, what will come to your mind? Name it, and we assure you that you will get everything at our club. It is best to appease all your senses to get the most relaxed body and mind. Therefore, we have a great ambience with the following characteristics: 
a. Calming Sounds/Music
Soft-toned music or nature sounds are very sedative to everyone's ears and at our spa, we value customer peace over anything. You can also request your choice of music, and we will play it for you while giving you a world-class spa treatment. 
b. Soothing Lights
Dimmed lights are a must to give you the proper environment to loosen up your tensed muscles and nerves. So, you can come whenever you feel like you need a little pampering for yourself. 
c. Aromatic Scents
We have incorporated scents that can reduce your nerve tension along with providing you with a relaxing surrounding. I assure you that once you become a member of the Model Town Club, you will surely become a regular at our Spa centre in Lahore. 
d. Professional Staff
MTC spa facility is equipped with trained and professional staff members. If you become a member of our club, you will be able to get skin treatment recommendations as well as hair, nail, hands and foot care. Once you walk into our club, you will not be able to move anywhere without getting a massage or facial from our spa. 
e. Variety of Massages Offered in Our Spa Centre in Lahore
Due to the extreme pollution situation in today's world, cleansing your pores is a must. To release your skin from all the dirt and toxins, you should visit our spa weekly or monthly at your convenience.  
You can either get a Hydra facial or get aroma therapy. We also have stone massages and soft tissue massages. 
Benefits of Soft Tissue Massages
The majority of the population is working desk jobs, or their work needs them to sit for a longer duration. So, getting a massage to loosen up and tone your body muscles has become a need. Therefore, we offer you a soft tissue massage facility at the spa and sauna of the Model Town Club, Lahore.  
Unlike deep tissue massages, soft tissue massage uses a variety of pressures, depth and duration. It has the following advantages for your body: 
Reduce the chances of muscle injury

 

Improves body posture

 

Enhance flexibility

 

Stretch Muscle Fibers

 

Better physical as well as mental health

 
Additionally, you are left feeling relaxed for the day after visiting an amazing spa centre in Lahore. So, what are you waiting for? Join our community of distinguished people to make the most out of your time. 
Join the Model Town Club Right Now!
You can increase your social circle and network as our community includes many prominent personalities from every sector. Just fill out our membership form right away and we will get back to you shortly.