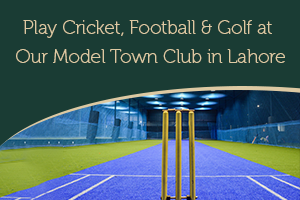 Play Cricket, Football and Golf at Our Model Town Club in Lahore
Are you interested in sports like cricket, football, golf, squash, tennis, or swimming? Then you have come to the right page as the Model Town Club in Lahore offers you a chance to enjoy all the amazing facilities here. Along with that, we have sports grounds, and courts to help you enjoy all the sporty activities. 
If you want to join one of the best clubs in Lahore, then Model Town Club (MTC) can be a great choice for you. 
What Facilities Are Available at the Model Town Club in Lahore?
In MTC, you will be thrilled to see how versatile our club is and how we offer a wide range of activities for your spare time. Daily life can be exhausting, and it also kills the spirit of a person to do exercises. But for your health (both physical and mental), you should work on yourself. Self-care is a vital part of life in today's world.  
Therefore, you can choose from a variety of facilities to elevate your mood and enhance your mental health. Well, the prominent features of the Model Town Club in Lahore are as below: 
Spa and Sauna

 

Multiple Dining Options

 

Gym and Gender Specific Fitness Centres

 

Indoor Swimming Pools (separate for both male and female)

 

Tennis and Squash Courts

 

Sports Grounds (for Golf, Cricket and Football)

 
Moreover, you can be a part of our diverse community to build your connections as well as to utilise your spare time in the best means. 
Several Amenities at the Model Town Club in Lahore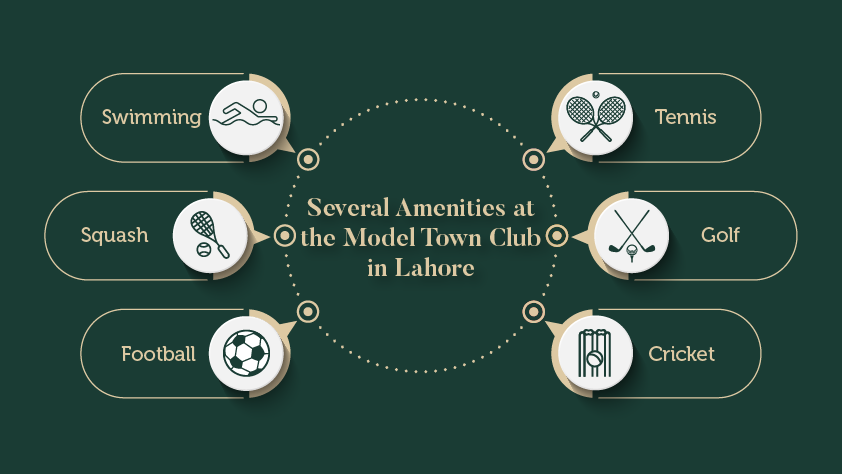 As a sports enthusiast or lover, you should know that we have a lot of beginner's classes for you to learn the following: 
Swimming

 

Tennis

 

Squash

 

Golf

 

Football

 

Cricket

 
So, let us know what the benefits are of playing any of the above-mentioned sports activities at the Model Town Club in Lahore.  
Swim Your Worries Away
Like all other exercises, swimming also helps to relax your brain by releasing endorphins. Well, this is the hormone which makes you feel good. Moreover, there have been several research which proved that swimming aids in reducing chronic stress and anxiety. 
Additionally, swimming is very beneficial in regulating the blood flow in your whole body. Which in return protects the human body from a variety of harmful toxins. Even if you do not know how to swim, no worries, as we are here for you. 
We have professional trainers in our club in Lahore along with highly skilled lifeguards. So, do not think anymore and visit MTC now!  
Play Tennis with Friends
Are you interested in tennis and want to learn it from the best instructors? Then the Model Town Club in Lahore is an excellent choice for you. In addition to that, if you want to burn calories while having fun, then tennis is for you. In research, it is proven that an hour-long singles tennis can burn 600 calories (about 48 minutes of running) in males and 420 in females. So, it is both fun and healthy for you. 
Furthermore, you can play it on your own or socialise with your friends while playing at our court. At MTC, you can book your slot according to your convenience after getting our membership. 
Learn Squash from the Best Instructors
Like tennis courts, we have squash courts, too. Squash helps tone your muscles and it also increases your reaction time. More importantly, it will help you enhance your strength and flexibility. Therefore, you should join our Model Town Club in Lahore to have every opportunity to play squash whenever you want. 
Have an Enriched Golf Experience
There are very few clubs in Lahore which offer an exquisite golf experience and when you search for the best golf ground in Lahore, we will be in the top results. With our membership, you can book our golf grounds to have the best time with your friends and families. 
Football – A Healthy Sport of Passion
Football is a high-intensity sport and Model Town Club in Lahore has one of the best sports grounds and coaches. So, you can play football and direct your energy and passion in the right direction at our grounds.  
Moreover, many doctors have also prescribed taking part in sports activities which include running and socialising with several people. Therefore, football is quite helpful in promoting both physical and mental health. 
Enjoy Cricket with Your Friends
Our Model Town Club (MTC) has the best cricket ground in Lahore. Playing cricket can help build your stamina and improve brain and muscle coordination. So, if you are looking to enjoy a good cricket session with your friends, then you should get our membership to book the sports ground for your cricket game in your leisure time. 
Get a MTC Membership Right Away!
Join our club in Lahore to avail yourself of all the benefits of having an MTC membership. Come to our club and enjoy all the facilities anytime you want. But first, fill out our membership form for the Model Town Club and then we will get back to you with all the other information.