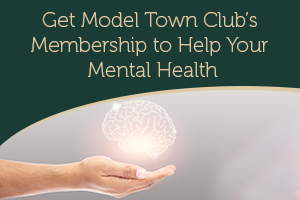 Get Model Town Club's Membership to Help Your Mental Health
How you spend your spare time tells a lot about the state of your mental health. Therefore, you should engage in fun activities such as playing sports or reading in a comfortable environment. Moreover, you can also choose to get some manicures or to get your favourite food when your mood is down. 
Because you can only be productive when you have your mental health in place. And trust me, nobody will help take care of yourself, only you can. Thus, you should get a membership in a top-notch club which offers all the best facilities required to soothe your mind and soul. For this reason, you can join the Model Town Club, Lahore to elevate your living experience. 
Why Mental Health is Important?
You must have heard this at some point in your life about this phrase, "A sound mind is in a sound body". It is actually the English translation of the quote by a Greek Philosopher, Thales (Miletus, 624 – 546 BC). This tells us that those who passed away many centuries ago also knew the importance of mental health. 
Self-awareness is a blessing in today's time of distress. Therefore, you should break the stigma and talk about your mental health as much as you want. Serious mental illnesses such as Alzheimer's Disease, Body Dysmorphic Disorder (BDD), Schizophrenia, Psychosis, Chronic Headaches and body pain, and eating disorders all happen after prolonged conditions like: 
Anxiety

 

Depression

 

Bipolar Disease

 

Obsessive Compulsive Behaviour

 

Post Traumatic Stress Disorder (PTSD)

 
Thus, World Mental Health Day is celebrated every year on 10th October to raise awareness of the importance of having a healthy mind. But here I would say again that making an effort for your mental health always comes first.  
Ultimately, you should get a gateway away from your daily routine to elevate your lifestyle. So, what is better than having a membership in an exquisite club? Nothing, right? For your convenience, I have mentioned some of the facilities that may motivate you to appreciate yourself. 
Model Town Club Values Your Mental Health  
At MTC, we are always there to provide you with great customer service. Whether you want to take part in any sporty activities (such as football, golf, squash, tennis, or cricket) or you like to eat some tasty food, we have got you covered. But here you must want to know why I am emphasising these points again and again, right? It is because these activities do wonders for your mental health.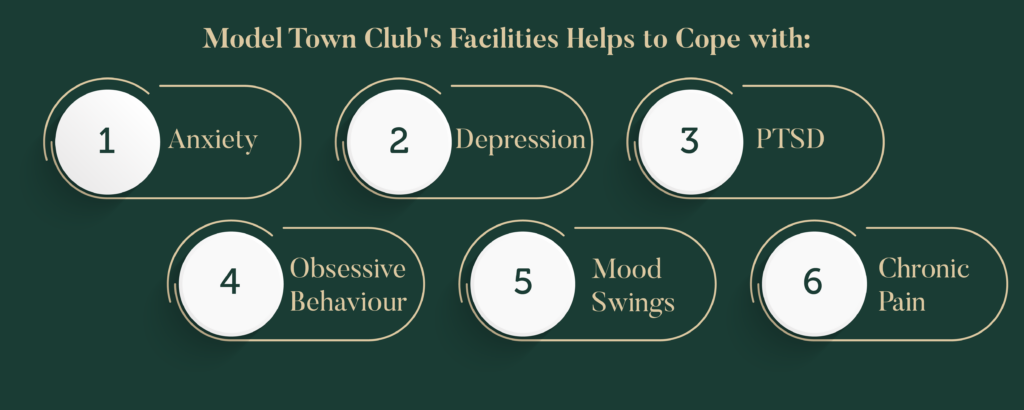 Benefits of Sports for Mental Health
The main reason to join any extracurricular activities is to manage your daily life's stress and sports can be one of the best options in this regard. During exercises, a hormone called endorphins is released, which is a chemical that relieves pain and stress from your brain. Additionally, it also reduces the amount of stress hormones (cortisol and adrenaline) in your body. 
Furthermore, you should be delighted to know that we have a wide range of physical activities for you such as:
a. An Outstanding Fitness Centre
We have a gym and fitness centre separate for both males and females. Along with that, we have fitness trainers to help you manage your workouts. Exercising daily for 20-30 minutes will make you a lot calmer than usual. Ultimately, it will enhance both your physical and mental health.
b. Enjoy Team Sports 
Taking part in sports is already very beneficial but if you take part in team sports like football, cricket, squash, tennis and others, then it will have a very positive impact on your mental health. So, you can book our sports ground or tennis or squash courts to have a good time with your family and friends. Apart from this, you will also be a part of a dynamic social group who share the same interests at our Model Town Club, Lahore. 
Food, Drinks and Your Mental Health
In my view, there is nothing that a good meal cannot heal. No matter if you want to have BBQ or fine dining food, we have all the options for you. Moreover, if you want to have some healthy and calorie-counted food and drinks to stay healthy, we have it, too. Indeed, you will enjoy at MTC with the best variety of foods and beverages made by the top chefs in the city. 
Have a Relaxing Massage or Pedicure at Our Club
Last but not least, we have a spa and sauna facility for you to relax your muscles. Similarly, you can relax your hands and feet by booking a manicure and pedicure session at the Model Town Club's nail bar. Or if you want to calm your head and scalp, we have a hair bar with all the amazing equipment. 
Join MTC to Enhance Your Mental Health
Now!
If you want to enjoy all the facilities mentioned above, then you will have to become a member of our Model Town Club, Lahore. It does not matter if you are a resident of the Model Town Society or not, you can contact us via our official number or email us at info@modeltownclub.com and apply to become our member anytime.