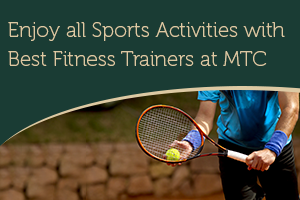 Enjoy all Sports Activities with Best Fitness Trainers at MTC
If you are interested in spicing up your life with daily fun activities and want to join the latest fitness regimens. Then you should become a member of our Model Town Club (MTC), Lahore because we have top fitness trainers in Lahore as well as the best gym, swimming area and sports ground. 
Model Town Club – Perfect Combination of Fun and Fitness
Model Town Cooperative Housing was established in 1924 and the Model Town Club is located there with all the modified facilities. We are proud to tell you that MTC is a place of leisure for a diverse community of many artists, writers, politicians, activists and philanthropists. So, you can also be a part of our community to build new connections and lifelong memories. 
Firstly, the Model Town Club (MTC) is not only for health and fitness enthusiasts because it has fun activities for your whole family. MTC is here to provide you with the luxuries to elevate your daily life. We have everything from spas and saunas to multiple dining options, from nail bars and hair bars to tennis courts and squash courts.  
Thus, you can relieve all your work stress as well as maintain your health with the help of our fitness trainers. 
5 Choices for you to Stay Healthy 
If you want to maintain your health, then what is better than to have multiple sporty options to choose from? At Model Town Club, you can avail yourself of the following five varieties of fitness activities after becoming a member: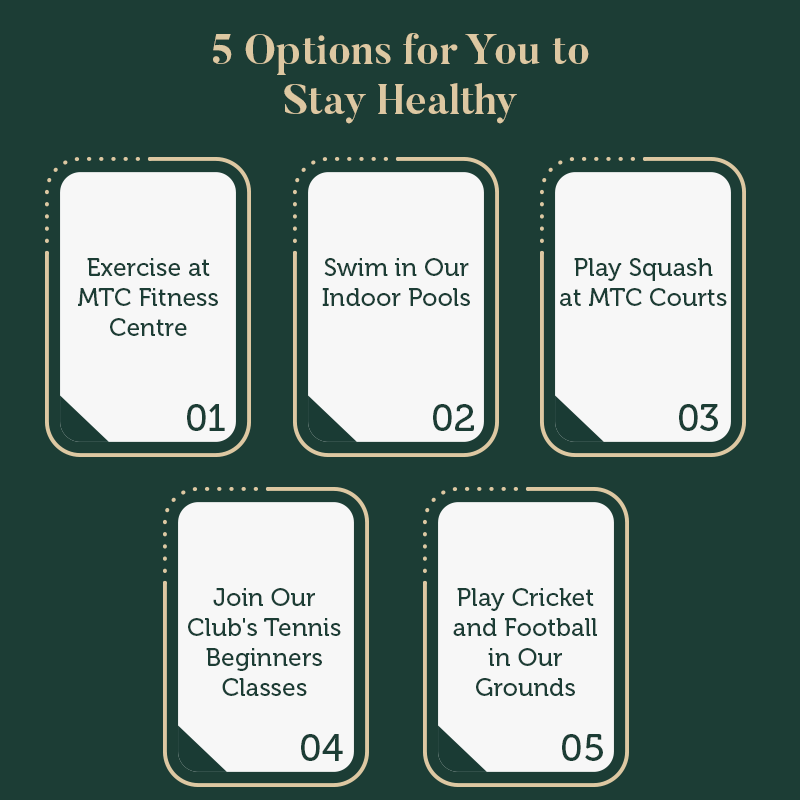 1. Fitness Centre with Skilled Fitness Trainers
We have all the well-rounded features that should be present in a top-notch fitness centre. You can take advantage of the world-class equipment for your daily workouts. Additionally, we have separate gyms for men and women. We have separate female fitness trainers. Hence, there are a few female fitness centres in model town, and we offer one of the best among them. So, you can exercise on your own or you can train under the guidance of our expert fitness trainers. 
At MTC, you will not only have the option of the gym and strength-building fitness trainers but also group fitness classes of Yoga and Pilates. But if you are more of a field training person, then no need to look anywhere else because we have a lot of other facilities for you, too.   
2. Swimming Pools with Professional Instructors
Swimming does not only help build your stamina and endurance, but it will also help tone your muscles and increase your heart rate without stressing your body. Furthermore, water therapy is also the latest technique to help with the rehabilitation of injuries to muscles, tendons and ligaments. 
Therefore, you can enjoy swimming in your leisure time or help any of your family members with any muscle tear or sprain with water therapy at our club. Once you become a member of our model town club, you and your family will be able to access the private indoor swimming pools specified for men, women and children. 
In addition to that, we have swimming instructors to help you and also fitness trainers to teach swimming to all men, women and kids. Most importantly, lifeguards are present all the time near our swimming pools to ensure your safety. 
3. Tennis Courts with Beginners Classes Available
For people interested in tennis, Model Town Club is the best option for you. You can teach your children tennis yourself or enrol them in our beginner's classes to build more athletic abilities in them from a young age. You can book our tennis court at your convenience to play with your friends and family.  
Moreover, you can practice alongside the local tennis players or enrol yourself on our private lessons for beginners. Thus, you should live your passion and train yourself in the sports activity you want. 
4. Dual Squash Courts Facility
MTC have two squash courts which will be open for you once you become a member of our club. You will be able to reach your fitness goal as well as enjoy your time while playing squash at the Model Town Club (MTC). 
5. Sports Grounds: Both for Football and Cricket
Whether you want to kick a ball or strike a six, we got you covered. As our club consists of both football ground and cricket ground. Both of our grounds are vast, and you can book any one of them after becoming a member of our MTC club in Lahore. 
Membership Procedure for Model Town Club
To make it easy for you, we have developed a more convenient method for membership registration. You can open our official website or directly open our joining form to apply for the Model Town Club membership to facilitate yourself with our fitness trainers and state-of-the-art club features.  
Just fill out our form, and we will be in touch to proceed with the further membership procedure. 
Take Advantage of the Best Fitness Trainers at MTC, Lahore
A professional and skilful fitness trainer will elevate your fitness journey in the best way possible. So, what are you waiting for, just fill out our form and join a dynamic community in Model Town, Lahore. 
Learn more about Model Town Club membership fees and more via our official website.